The fun we had and the things we learned this session... Surrealist Paintings in the style of Joan Miro... Pastel Stencils and Textured Canvas Paintings in the style of Paul Klee... Geometric Sculptures in the style of David Smith...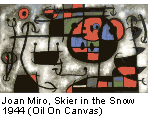 Joan Miro (1893-1983) painted in a style different from other Surrealists (sur-real'-ists) - artists who painted dreamlike, unusual images. His paintings were very childlike filled with biomorphic shapes, abstracted or simplified plants, animals or humans. He liked to experiment with different types of paints and textured surfaces. Like this famous Spanish painter, we painted on a very textured surface, crumpled paper bags. We planned our shapes and chose contrasting colors for the overlapping designs.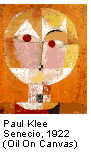 Paul Klee (1879-1940) grew up in an artistic family. His father was a music teacher and his mother liked to sing and draw. Both music and art were important to Paul, and he took a while to decide which career to pursue. His art is known as abstract - the opposite of realistic art. Like Miro, he too experimented with various textures, bright colors and shapes. Using an abstract theme, we made chalk pastel stencils and a mixed-media canvas painting.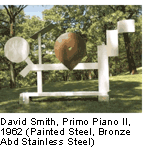 David Smith, (1906-1965), a former metal worker in a car factory, is considered one of the most influential American sculptors of the mid-twentieth century. Influenced by the welded Cubist constructions of Pablo Picasso, Smith was the first American sculptor to use welding for sculptural purposes. He believed his sculptures belonged outdoors to be seen with the earth and sky, not in museums. We used mirrored poster board and tin foil to create abstract, geometric sculptures of our own.






All images are property and copyrighted to their respective owners.
Home | About Us | Contact Us | Privacy Statement